How We Ship
The International Book Project strives to address the needs of its partners by establishing strong channels of communication with schools and communities in under-served areas of the world, both domestic and abroad. We work directly with organizations to determine the types of books they need and their ability to receive and manage the shipment. We spend time getting to know our partners to determine the appropriate size of shipment and include them in our entire process- from packing to guidance through the clearance procedures.
---
Small Shipments
A small shipment of books is approximately 100 books and can be shipped to any organization with a valid mailing address. The International Book Project uses a third-party shipper with an emphasis on international shipping. Though costly, this shipping method is the only way to reach many small, remote schools and libraries.
---
Pallets
A pallet typically contains 700 – 1,000 books. Pallets are often sent to organizations that need more books than a small shipment can provide, but do not need or have funding for a sea container.
---
Sea Container
A sea container contains 10,000 – 40,000 books and can stock a university library or provide textbooks for an entire school district. Partners requesting a sea container must have the resources to transport, clear through customs, and distribute a large number of books. In most cases, IBP asks that partners contribute to the cost of shipping.
---
Books Out
If you are traveling out of country to work with a school or organization, you can come to our warehouse and pick out titles to carry with you. A small administrative fee applies. *Please note that due to expenses incurred with acquisition, Spanish book requests require 200% of the admin fee listed below.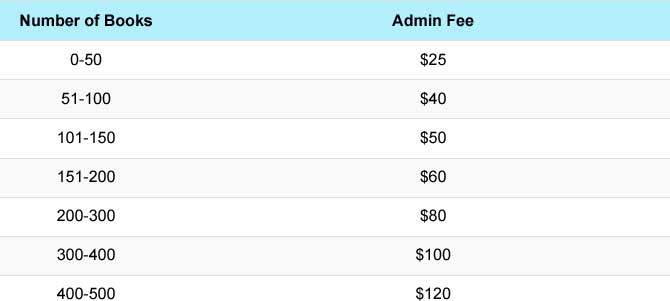 ---