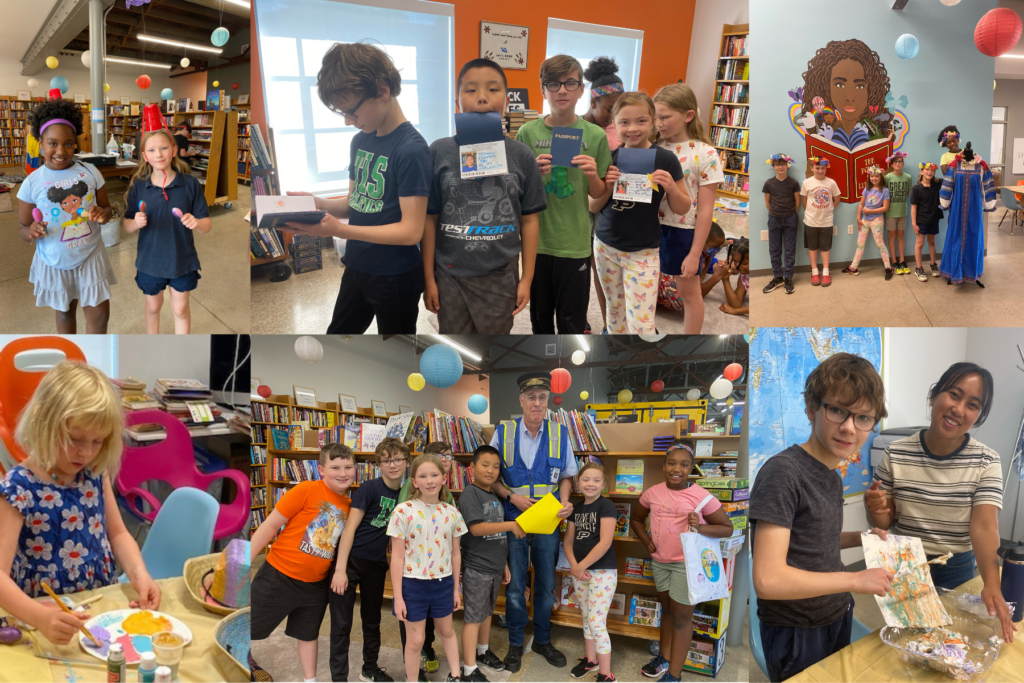 In 2019, International Book Project launched its free kids' summer program, Globetrotters. Over the course of the week long program, students ages 8-11 learn cultural awareness and understanding through educational lessons. Participants "travel" to five different regions of the world without leaving Lexington. Regions include, but are not limited to, South Asia, East Africa, Latin America, Northeast Asia, and Eastern Europe. Students will explore the 'region of the day', learning about the various cultures, customs, and traditions of the area through immersive cultural lessons that feature food tastings, arts and crafts, dance, music, storytelling, and more! View our Program Flyer.
The 2023 Globetrotters summer program will be offered for two week long sessions in Lexington and one week long session in Sharpsburg:
June 19-23 from 9am to 3pm in Lexington
June 26-30 from 9am to 3pm in Sharpsburg
July 17-21 from 9am to 3pm in Lexington
The "Globetrotters" program is cost-free with meals and snacks provided to students during their time at International Book Project. Every student is provided a branded tote bag with supplies needed for the program; some of the materials included are a visual atlas, small foam globe, blank book, coloring markers, pencils, and books for the regions discussed. The bag and materials are the students' to keep upon completion of the program, along with any crafts they created throughout the week.
Globetrotters is not only fun, but it also helps students increase their understanding of diversity and inclusiveness. At the conclusion of the program, students display a higher level of cultural understanding, geography, and the world we live in.
The LG&E and KU Energy Foundation proudly sponsor Globetrotters in Lexington, Kentucky and through the Blue Grass Community Foundation, the Robert L. Brown Foundation proudly sponsors Globetrotters in Sharpsburg, Kentucky.
Register HERE for Lexington
Register HERE for Sharpsburg
Student's ages 8 through 11 are invited to sign-up until the max number of participants is met (10 -12 students/session). Please contact our Globetrotters Coordinator (joy@intlbookproject.org) with any questions or concerns.